Is Your Board Full of Drivers, Pioneers, Integrators or Guardians?
Most boards of independent schools are actively reviewing their composition to ensure their decisions are informed by an appropriate mix of competencies represented on the board. They typically value technical expertise in finance, law, education, risk & compliance, strategy and several other fields highly. Their professional skills provide individual members with unique perspectives with which they evaluate current reality and future prospects and it is, therefore, good practice for boards to consider the mix of technical skills they require to advance their organisation's strategy.
In addition, contemporary expectations for board members as fiduciaries require them to have a strong grasp on what constitutes effective and ethical governance. Today, new board members are often expected to already have governance knowledge and understanding, or they will be asked to undergo governance training early in their term.
Behavioural attributes and competencies, however, are not as regularly used in a clear and transparent way to determine the extent to which a prospective board member may complement a board gainfully. But behavioural aspects may well make all the difference between two potential board members with the same technical background.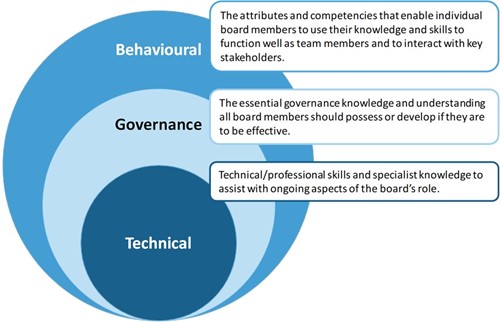 Adapted from Beck (2009)
As boards continually assess their diversity of skills and attributes, they may find it helpful to use a skills matrix that includes behavioural/personality type indicators. Adding Deloitte's Business Chemistry model to such a matrix may be beneficial here.
This model defines four broad personality types: Drivers, Pioneers, Integrators and Guardians.
Drivers are direct, competitive, focused, sceptical, and goal-oriented, and are not consensus seekers. They value challenge, generate momentum, process new ideas quickly and dislike small talk, waiting, and indecisiveness. They enjoy examining systems, can tolerate risk, and respond to logical arguments.
Pioneers tend to be idea generators, spontaneous, intuitive, energetic, and adaptable. They make decisions quickly but can change their minds and have a high tolerance for risk. They dislike process, details, and repetition, and love to dream and believe that anything and everything can be done.
Integrators are distinguished by empathy, a focus on relationships and consensus, and comfort with ambiguity. They value connection and draw teams together. They're attuned to nuance, seeing shades of grey rather than black and white. They dislike confrontation, competition, and aloofness. They develop understanding through stories and have a tolerance for risk but tend to go along with the group.
Guardians are methodical, detail-oriented, cautious, and deliberate. They value stability and they bring order and rigour. They want proven principles and practices, rationality, clear answers to questions, and minimal risk and uncertainty. They are deliberate decision-makers inclined to stick with the status quo.
Boards can use their awareness of personality types in two ways: Firstly, they may favour particular types in their identification of future board members, to achieve the desired composition - remembering that exact balance may not always be the preferred choice for their school's strategic posture. Secondly, if boards identify that their decision-making may be impeded by an underrepresented personality type (e.g. boards whose members tend to lean towards the same extremes of risk appetite), they can implement strategies to mitigate risks of bias.
Resource: ISQ Skills and Diversity Matrix Template
More information: The Business Chemistry Blog
Reference: Beck, J. 2009. 'Better guidance for NEDs — ensuring the board is skilled appropriately', Keeping Good Companies, 61(10), 584-585.