An Education Industry Knowledge Framework
Shaping the composition of a board through effective succession planning is of vital importance for boards to add continuous value to their school in a constantly changing environment. Considering the skills and professional backgrounds board members bring to the table, a common question pertains to the depth of education industry knowledge a board should have.
Corporate boards present their skills matrices in annual corporate governance statements. In its 2020 statement, Westpac considered 7 out of 10 board members to have deep skills working in, or advising, the banking and financial services industry. The board of Super Retail Group (in 2021) lists 43 percent of board members as having deep, and another 43 percent having broad consumer goods sector and retail business skills.
Evidently, this experience goes beyond the industry insights one can develop as a banking or retail customer. To what extent then can education industry knowledge be gained beyond one's experience as a student or parent and why does it matter?
Research1 suggests that boards with strong industry experience are more intimately aware of their industry's dynamics and strategic drivers, potentially leading to strategic advantages. They may also understand more deeply how their company creates value for stakeholders, how it can navigate risks and opportunities to their strategic benefit, and how to handle the regulatory environment confidently. In addition, board members with connections to key industry players may contribute an information advantage. Finally, an industry-aware board may have a more robust platform to oversee management's choices in pursuing opportunities.
On the flip side, increased acquaintance with the way things are done in an industry may blind directors to changing industry dynamics or disruptive and innovative opportunities. Further, a more similar background between directors and senior management may also lead to less diversity in viewpoints, which could at times lead to worse decision-making.
Whatever a school board's view is on appointing directors with an education background, all boards should have an active interest in developing their education industry expertise, to enhance their strategic thinking.
Ways to engage with current industry insights include:
Receiving regular input about topics of interest through board papers prepared by the principal, school staff or external consultants, or from publications disseminated to the board. Consider asking ISQ's School Services team to provide short, virtual board presentations about pertinent education industry issues.
Scheduling in-person visits to your school or to other schools, to provide hands-on industry experience that brings the board papers to life.
Attending education industry events.
The below diagram can guide a board in developing a comprehensive industry knowledge base.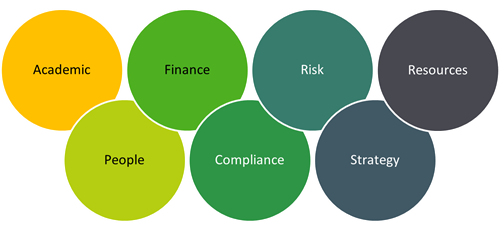 Insights from the academic domain support boards in different ways. Boards pursuing a strategy centred around an educational philosophy need to fully understand this philosophy to assess how it creates value for the school. Boards seeking a competitive advantage on academic outcomes may require academic industry knowledge to monitor educational data effectively. Boards that prioritise success in post-school destinations may find insights about future workforce requirements invaluable.
Through the people domain, boards ensure their understanding of student, staff and principal wellbeing matters is up-to-date, and they have the insights they need to engage in long-term workforce planning profitably.
The finance domain provides industry-specific insights into funding arrangements and industry benchmarks.
In the compliance domain, boards develop their currency in education-specific laws and regulations and understand the key stakeholders within the regulatory environment. This includes developing awareness of royal commissions or other inquiries that may have a downstream impact on schools.
The risk domain supports boards in developing their awareness of education-specific risks in areas such as child protection, duty of care, student mental health or disability discrimination, etc.
In the strategy domain, boards consider the industry-specific opportunities and threats that should be explored as part of a board's strategic thinking. This may include school-specific lessons from the pandemic, demographic changes in the school-aged population, movements in parent expectations etc.
Finally, the resource domain ensures that boards approving significant capital expenditure have an appropriate understanding of current trends in educational architecture and facilities master planning or education technology.
Boards that continually strive to broaden their industry knowledge in these domains may be increasing the utility of their strategic deliberations in partnership with the principal.
[1] Faleye, Hoitash & Hoitash, 2018. "Industry expertise on corporate boards," Review of Quantitative Finance and Accounting, Springer, vol. 50(2), pages 441-479, February.